Moving Traditions's Kol Koleinu fellowship, an ongoing project funded by the Hadassah Foundation, invites young Jewish feminists to explore and deepen their feminist knowledge and create tangible change. Fellows implement social change projects in their communities, where they exercise their new knowledge and skills. Check out two of the projects:
Voting Workshop By and For Teens
Danielle Gruber, a high school senior from Great Neck, NY, curated an educational curriculum on voting with a feminist lens. The series of three 60 minute workshop sessions cover topics like: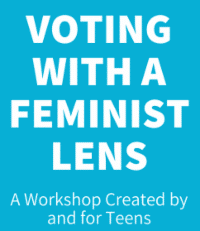 The importance of voting,
The logistics of voting and voter registration,
Women's rights in relation to social,
Political, and economic issues; and
Selecting a candidate that represents your values.
See Danielle's workshop curriculum on Moving Tradition's website.
LGBTQ Resource Guide for Teachers
Laine Schleziner, a high school senior from Bulingame, CA, created "Queeriosity – An LGBTQ Resource Guide for High School Educators.
Laine utilizes data, multiple educational sources, and her own experiences to create the comprehensive guide. A few of the topics included are:
Pronouns and gender-affirming language,
Social-emotional support for LGBTQ students, and
Teaching LGBTQ content.