In a recent study conducted by the Jewish Education Project, Jewish teens were asked what they need help with the most. 68% said "self-esteem" and 55% said "challenging sexism." Fearing failure, teen girls hold themselves back from taking healthy risks, which are key to leadership development.
Meet Moving Traditions, an organization that connects the issues teens care about must–such as body image, social and academic pressure, friendship, and sexuality–to enduring Jewish values.
One of their programs, Kol Koleinu (meaning "all our voices"), that was started and continues to grow with support of the Hadassah Foundation, invites young Jewish feminists to explore and deepen their feminist knowledge, channel their voices to share their beliefs, and use their skills to create tangible change in their communities.
Of this year's 55 Kol Koleinu participants:
Over 90% reported increasing their feminist knowledge,
94% reported that the fellowship helped them grow as an activist,
100% reported increased confidence, and
97% built and deepend their connections with other fellows, despite never being able to meet them in person.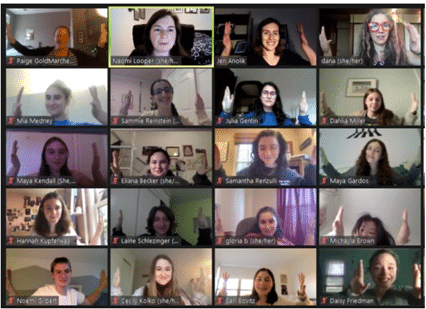 "The most important thing [Kol Kolenu] has taught me is self-awareness. I am now aware of sexism that occurs in the subtlest of ways…When I apologize to a man who holds the door for me, I catch myself. The next time it happens I swallow the apology. When the girls in my class are afraid to raise their hands, I ask their questions for them and encourage them to do the same. I am forever grateful for this enriching experience."
-Teen participant Rachel Gorman-Cooper
---